Back to all posts
Posted on:
Mistassiniy School Student Profile – Tyla Decoine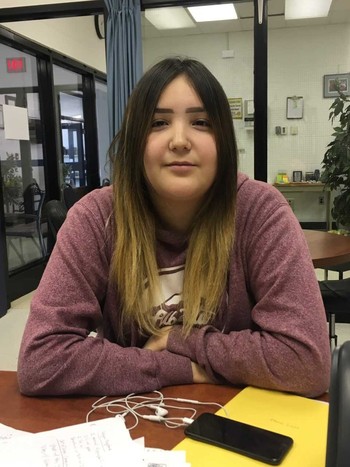 2017-18 has been a turn-around year for Tyla at Mistassiniy School. She is like a brand new person. She has been working very hard to change her behaviors and academic output. At one point, Tyla was a frequent visitor to the principal's office but that is not the case now.
We spoke to Tyla about the changes we noticed and this is what she had to say:
"Last year, in grade 9, I had a fun year, hanging out, skipping class and not caring to do work. My report cards were always bad. I didn't pass any classes and I had lots of lates and absences. I was suspended several times for my behavior. I wasn't really nice to my teachers. My Mom was disappointed in me. She knew I could make better decisions but I chose not to.
High school at Mistassiniy changed everything. I made different choices. I changed who I hung out with. I have a positive attitude now. I do my work and I attend my classes. This year I am passing classes and I have already earned 22 credits towards my High School Diploma.
Over the summer I had to do some work to fix things. I spent some time with my Auntie Judy and she and her kids really helped me understand the importance of school and how a good attitude really helps. My Mom has always supported me and believes in me as well.
I would like to graduate from Mistassiniy School and go to college or university and study nursing. I really like to help people and I think that I will be good at it.  My teacher at Mistassiniy, Ms. Renaud, really cares about me, she is always encouraging me and letting me know that she believes in me. That makes me feel great and like I can do it.
I still have bad days but the difference is I don't let them keep me down for long. I tell myself that, "I can do this". I spend some time thinking about my problems and give myself some time to be alone. For me, just having the time to be alone is often enough for me to get my positive attitude back. Not everyone is like that but it works for me."
We are extremely proud of the work that Tyla has been putting into her academics and attendance at Mistassiniy high school. Her determination to do better and be better have been noticed by the staff. We are sure she will keep up the great work!