Back to all posts
Posted on:
Mistassiniy school is excited to brag about our recent graduate Sidney Anderson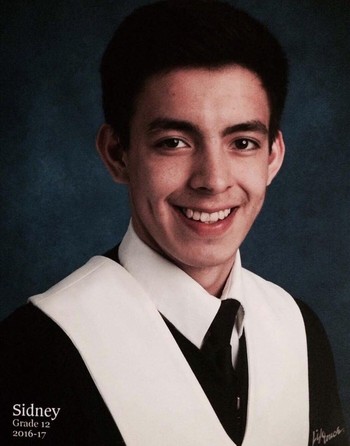 Sidney earned his high school diploma from Mistassiniy school in June of 2017, with 117 credits – 17 more than he needed to get his diploma.
While at Mistassiniy school, Sidney was a great athlete, a good student and all around super kid. He excelled at volleyball where his teams won several tournaments including the Battle of the Bands.  He also ran track and field and was on the provincial team in the 4 x 400 metre relay. He got good grades in school, highlighted by his 98% in Phys Ed, and his attendance was well over 90%.
Now that he has graduated, he has already been promoted to supervisor at the Wabasca Water World aquatic centre. It's pretty cool that a young man of just 19 years of age is already supervising other staff.  Sidney is a swimming lessons instructor and a certified lifeguard. Parents note that he is really patient, helpful and friendly in working with their young kids; and this is exactly how we remember him at Mistassiniy School.
He is currently upgrading some of his courses so he can fulfill his goal of attending the University of Alberta in Edmonton. We know he'll be successful.
Smart, athletic, motivated, and an all-around good guy.  That's our Sidney and we're proud of him as a graduate of Mistassiniy School.
 From the Administration and Teachers