Back to all posts
Posted on:
Mistassiniy School Grade 12 Graduation Trip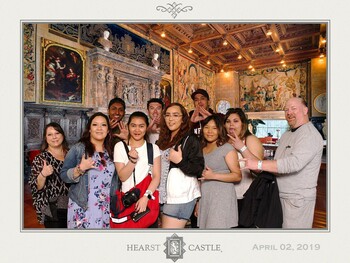 Grade 12 students from Mistassiniy School went on a grad trip to San Francisco and Los Angeles during spring break. Some of our activities are listed in the itinerary below.
Itinerary
Day 1-Cable car ride, Fisherman's Wharf
Day 2- San Francisco landmarks, Alcatraz visit, Walk across Golden Gate Bridge, Fortune cookie factory visit, Chinatown
Day 3- Santa Cruz, Travel to Monterey Bay, Aquarium visit, Cannery Row, Fisherman's Wharf.
Day 4- Hearst Castle visit, see elephant seals,  travel to Santa Monica Pier.
Day 5- Los Angeles landmarks, Hollywood Boulevard, Wax Museum, Tar pits, Beverly Hills, Rodeo Drive, Santa Monica Pier at sunset, Farmers Market
Day 6- Venice Beach
Quotes from students
Rumael Abbasi:
"My favourite part of the trip was the Santa Monica Pier. It had some really nice restaurants and shops there as well as some rides that gave a spectacular view of the sunset. The beach was really beautiful as well. I learned the most at Hearst Castle where I saw many different art pieces and artifacts from around Europe. I also got to see some of the European architecture which was really interesting and something that I had never seen before."
Zach  Zabot:
"My favorite part of the trip was visiting Alcatraz because of the history involved and the criminals that were in captivity there. I also enjoyed the sightlines it had of downtown San Francisco and the surrounding area. I learned some prisoners of Alcatraz were in there for tax evasion which surprised me."
Sieanna Cardinal:
"My favorite part of the trip was the wax museum and getting to see all of the celebrities wax figures and taking funny pictures. I feel I learned the most at Alcatraz island because I have a fascination with true crime. I learned that the island was originally Indian territory, and to learn about their captivity as well as exactly what happened in their escape and wonder to myself "what really happened to those bothers? Did they live? Or did they get eaten by the shark-infested waters?".  All the sights were amazing, walking across the golden gate bridge, seeing the Hollywood sign. I just wanted to say thank you for this opportunity to travel and learn new things."
Pauleen Mirabete:
"My favorite part of the tour is the Alcatraz. It is I think the most historic place we have been in this entire trip. It is named for sea birds, the windswept island was home to large colonies of brown pelicans. The average number of prisoners was 260, but as few as 222 and as many as 320, it was never full. A total of 36 tried to get away, 23 were captured, six were shot and two drowned, the other five went missing and were presumed drowned. The guards and officers lived on the island with their spouses and children. Alcatraz was dedicated to military use. During the Civil War, prisoners included Union deserters and Confederate sympathizers. The cells were also used to imprison. Native Americans who had land disagreements with the federal government. Alcatraz was housed by some of America's most difficult and dangerous felons."
Sadie Auger:
"My favourite part of the trip was either walking the San Francisco Golden Gate Bridge or walking on the Santa Monica Pier. I liked the San Francisco Golden Gate bridge because that was one thing I never thought I would get to do and that will be something I will always remember. And the same thing with the Santa Monica pier, that was something I never thought I would ever get the chance to do, we (Kenita, Pauleen and me) went shopping and we all rode the ferris wheel (the view was beautiful, especially because it was golden hour) and we went on the roller coaster two times. One thing that I really remember learning was when we were on a walk on Hollywood walk of fame, the tour guide told us that when there were movie premieres that the stars (celebrities) would get to walk the red carpet while there plus one would have to go a different way, where they wouldn't be seen. Which was crazy to me because I always thought there plus one would get to enjoy the experience with them."
Kenita Charland:
"My favorite part of the trip was Santa Monica Pier. I enjoyed the roller coaster, and Ferris Wheel because the sunset was absolutely beautiful. The beaches were nice, and California is definitely a place I'd go to again. I learned the most at Alcatraz and how the 3 escapees got away and how they were never found. When we went to Hearst Castle it was interesting too because we had the chance to see artifacts from across Europe. It was successful and extremely fun!"
Frederick Giroux:
"My favourite part of the trip was when we went to Santa Monica Pier. My favourite part of the pier would have to be the rides and the local entertainment on the side. The views from the pier were amazing and everything about it was really awesome. I learned that at Alcatraz, not all the prisoners who got sent there weren't gonna be there for very long, most prisoners didn't "live" at Alcatraz. It was an awesome experience."