District Emergency
School closures due to Evacuation Orders
School Closures due to wildfires
Career Pathways School, Wabasca Alberta
Mistassiniy School, Wabasca Alberta
St. Theresa School, Wabasca Alberta
Calling Lake School (school will re-open on Monday, June 17, 2019)
Chipewyan Lake School
Pelican Mountain School (Sandy Lake)
Paddle Prairie School
Any decision regarding school operations will be announced once more information becomes available.
Evacuation Orders
Sunday, May 26, 2019, at 6:00 p.m.: Paddle Prairie Métis Settlement
Re-entry for communities previously under Evacuation Order
Wednesday, June 12, 2019: Phase 3 Re-entry (Return of Residents) for Wabasca-Desmarais, Sandy Lake and Chipewyan Lake. The threat of wildfire still exists for the above-mentioned communities. As a result, an eight (8) hour Evacuation Alert will remain in effect.
Question and Answer page for students, parents, staff impacted by the wildfires
Click here to view the Question and Answer page.
School News
Premier Notley announces Mistassiniy School modernization
Posted on

April 30th, 2018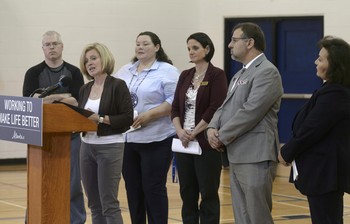 An exciting day for Wabasca-Desmarais! Premier Rachel Notley announced a modernization for Mistassiniy School on April 27, 2018. 
Alberta Government News Release (See below)
As part of Budget 2018, the government is funding a modernization of Mistassiniy School in Wabasca to ensure students have a safe and modern learning space.
The modernization will provide the school with a new gymnasium, career, and technology studies spaces, including a foods classroom, better natural lighting, and a prominent cultural space.
"Every child in Alberta deserves a great education. That's why we are building and modernizing hundreds of new schools across the province, including right here at Mistassiniy School. Investing in education is one of the most important investments we can make in our young people and in our province's future, and that is why we will continue to improve our schools and help make life better for Alberta families."Rachel Notley, Premier
Northland School Division was originally approved for a new school in Wabasca in 2014, but after consultation with the community and evaluating the current condition of Mistassiniy School, the project was refocused to update the condition of the Grades 7-12 school. In addition to creating more learning space, the project will provide updated mechanical and electrical systems.
"On behalf of the Board of Trustees, we are pleased to see the modernization of Mistassiniy School move forward. The students deserve learning spaces where local culture is reflected and students can reach their full potential. We look forward to the day when construction is over and Mistassiniy School shines proudly in its ability to serve students."
Maddy Daniels, board chair, Northland School Division No. 61
The modernized school is part of Alberta's continued investment in the infrastructure and services needed by families. Investing in schools, hospitals and roads will help the province move forward with economic recovery.
Originally constructed in 1979, Mistassiniy School serves about 330 students and is set to have a capacity of about 595 after the modernization is complete.
During the announcement, Mistassiniy School Student Hailey Rathbone presented Premier Notley a published book called The Kayas Ayamikamik Acimowina: Old Stories of the Mission. The book became a reality after Mistassiniy School students received inspiration while attending WE Day in Calgary. The students came up with the idea to research residential school history in Wabasca-Desmarais. From January until the end of June 2017, students interviewed Elders about their residential school experiences within the missions. Mistassiniy School hosted a book release on Orange Shirt Day (September 30, 2017). 
Premier Notley presented Mistassiniy School with a copy of the book Secret Path by the late Gord Downie and Jeff Lemire and an art piece.